Daily Fantasy Football Under Assault by State Governments
shah-d-egidio

Shah D'Egidio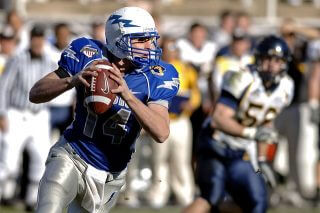 This is an example of how an image caption would be formatted.
By Michael Licari
In a move that should surprise no one, state governments in New York and Nevada have classified Daily Fantasy Sports sites such as FanDuel and DraftKings as illegal gambling. The billion-dollar daily industry has grown substantially over the last several years, but it wasn't until FanDuel decided to run commercials non-stop which declared, albeit nonsensically that FanDuel was giving away a billion dollars this football season. Enter the government.
New Yorl's Attorney General, Eric Schneiderman in an obvious power grab with an eye on furthering his political career, deemed Daily Fantasy Sports gambling that is preying on the weak by stacking the odds and creating gambling addicts faster than Atlantic City and Las Vegas. Schneiderman made this declaration about two months ago even though his belief that DFS is creating addicts is not supported by any empirical data or studies.
Season long fantasy sports have avoided government regulation for years because the Unlawful Internet Gambling Act was created to prevent "gambling businesses from knowingly accepting payments in connection with the participation of another person in a bet or wager that involves the use of the Internet and that is unlawful under any federal or state law." The Act specifically excluded most fantasy sports by claiming that fantasy sports are a game of skill rather than a game of chance. Apparently, Mr. Schneiderman disagrees and has taken the extraordinary step to legislate, not from the bench, but from the Office of the Attorney General. Naturally, many including myself are furious.
The Nevada decision comes from an obvious place. Big boss casino owners want a piece of the buy and the DFS companies are going to have to pay the piper if they want to continue operating in Nevada. As of right now, residents of both New York and Nevada are precluded by their state governments from playing DFS.
We stand up to the billion-dollar bullies.
View Cases